Announcing Bkper Bank Connections in Europe

We are thrilled to announce Bkper's Bank Connections for Europe, bringing seamless financial connectivity to our customers with European accounts, helping them to streamline their financial processes around near real-time financial data.
Building on our successful integration with financial institutions in the United States and Canada, we have expanded our collaboration with Plaid.com with Bkper as a PSD2 Agent, extending our coverage to ten European countries: Denmark, France, Germany, Ireland, Italy, Netherlands, Poland, Portugal, Spain and Sweden.
Supporting more than 1300 new institutions, Bkper users can now effortlessly connect their Google environment to their financial institutions and consolidate assets from two continents in one secure and consistent place. Try it today »
What makes Bkper Bank Connections so powerful
Global Financial Empowerment?
At Bkper, we are committed to empowering individuals and businesses worldwide by providing a simple solution to manage their financial data efficiently. We understand the importance of having a clear view of your financial situation, regardless of your geographical location. By expanding our Bank Connections to Europe, we enable users to seamlessly integrate their financial data from a wide range of European institutions directly into their Bkper Books.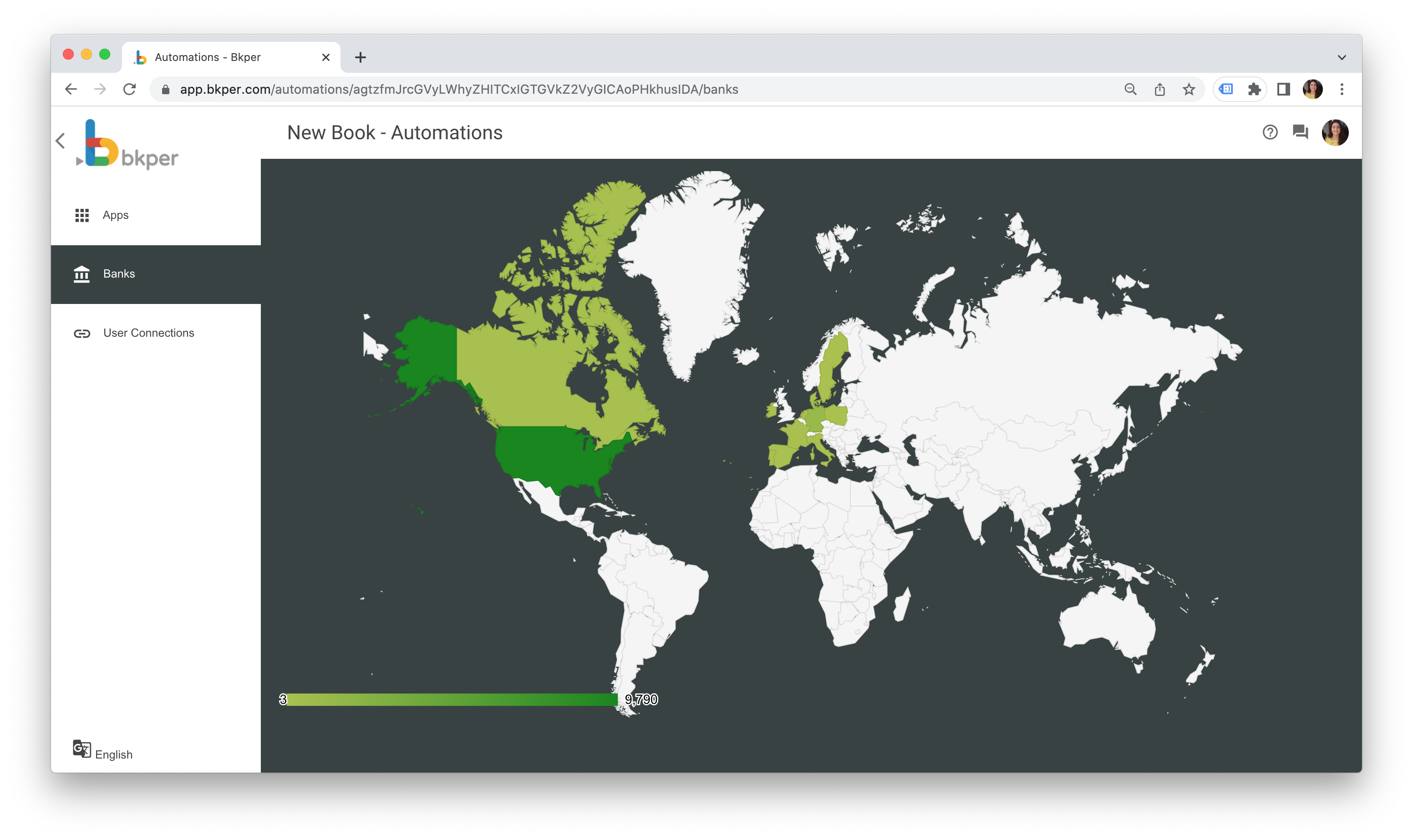 Easy and secure to connect
Connecting to a bank connection is as simple as logging into your bank account, without the need for any coding. This practicality means that financial data from bank accounts, credit cards, and payment gateways across different geographies can easily be consolidated in one secure and consistent place. With Bkper Bank Connections, there's no need to store bank credentials, end customers connect directly to their own bank accounts, eliminating the burden of handling clients' bank credentials for professional bookkeepers and accountants.

All your transactions in one place
All automations are centralized in one place, recording every transaction automatically into Bkper as they happen, ensuring secure and consistent data in Bkper. This powerful combination of ease-of-use, security, and centralization enables users to effortlessly consolidate their financial information, manage their assets, track expenses, monitor cash flow, and generate insightful reports—all from a single source of truth. It provides customers with a quick and accurate snapshot of their financial health.
Empower Global Financial Management
The significance of this expansion goes beyond convenience; it represents our commitment to delivering a simple global solution for financial management. We strive to break down barriers and provide access to financial data integration regardless of location. By enabling individuals and businesses to connect to their financial institutions in Europe and North America through Bkper, we empower them to make informed decisions, seize opportunities, and gain a holistic understanding of their financial position.
Expanding Bkper's bank connections Worldwide
We are excited about the possibilities this expansion brings and look forward to announcing more geographical locations, continuously enhancing our services to better serve our customers worldwide. Stay tuned for more updates as we continue to evolve and expand our offerings, ensuring that Bkper remains your go-to platform for efficient financial management on Google.