Improved Sharing
A lot of our users mentioned sharing books as having some flaws to it, indicating that it was rather painful to fill out each sharing e-mail and that it was a rather embarrassing experience to send the automated share email to the accountant with just a bare link…
So we set off to polish up our book sharing and put it into the familiar sharing patterns of nowadays…
These are the improvements:
Auto complete The first time you enter in the renewed share pop-up window you will find the little blue sharing button on the right side to authorize Bkper's access to Google contacts. Don't worry it only serves auto completing purposes. Ones authorized auto complete kicks in and as you start to type, emails from Google contacts are suggested. Sharing books has become a lot easier like this.

Sharing notice Yeah, we didn't win on elegance with our sharing email notification so we notched it up to meet Google Drive sharing patterns. A brand new Bkper icon easily identifies books from now on and clicking the blue Open button directly accesses the shared book.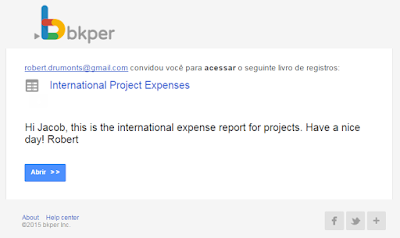 Record only A feature many asked for is Record only sharing. Ones a book is enabled for billing the Record only feature shows up together with the other sharing levels. Enabling the possibility to add people to a book who will only record through their smart phones and will not see the book on their own Bkper console. An easy way to have (temporary) collaborators record their expenses on a this book. Good thing is that you only will be charged for users who actually recorded entries during the billing period (month) so there is no worries about removing old or returning collaborators, no records no pay.

More to Share There is still a lot to do with sharing Bkper books especially when it comes to the Google Apps for work environment integration. The basis to do this is set and we have caught up this far and we'll strive to get a more consistent sharing experience for our users.